Experimenta el éxito de otro nivel con el CRM de gestión inmobiliaria n.º 1
¿Siempre haciendo malabarismos con múltiples herramientas y luchando por administrar tus contactos, clientes y propiedades? CASAFARI CRM es la solución para agencias inmobiliarias y equipos de éxito.
Con flujos de trabajo inteligentes y herramientas fáciles de usar que simplifican la gestión de clientes potenciales, clientes y propiedades, nuestro CRM inmobiliario empodera e impulsa las transacciones.
Ya sea en la oficina o buscando prospectos en el campo, acceda a los datos que necesitas a tu conveniencia.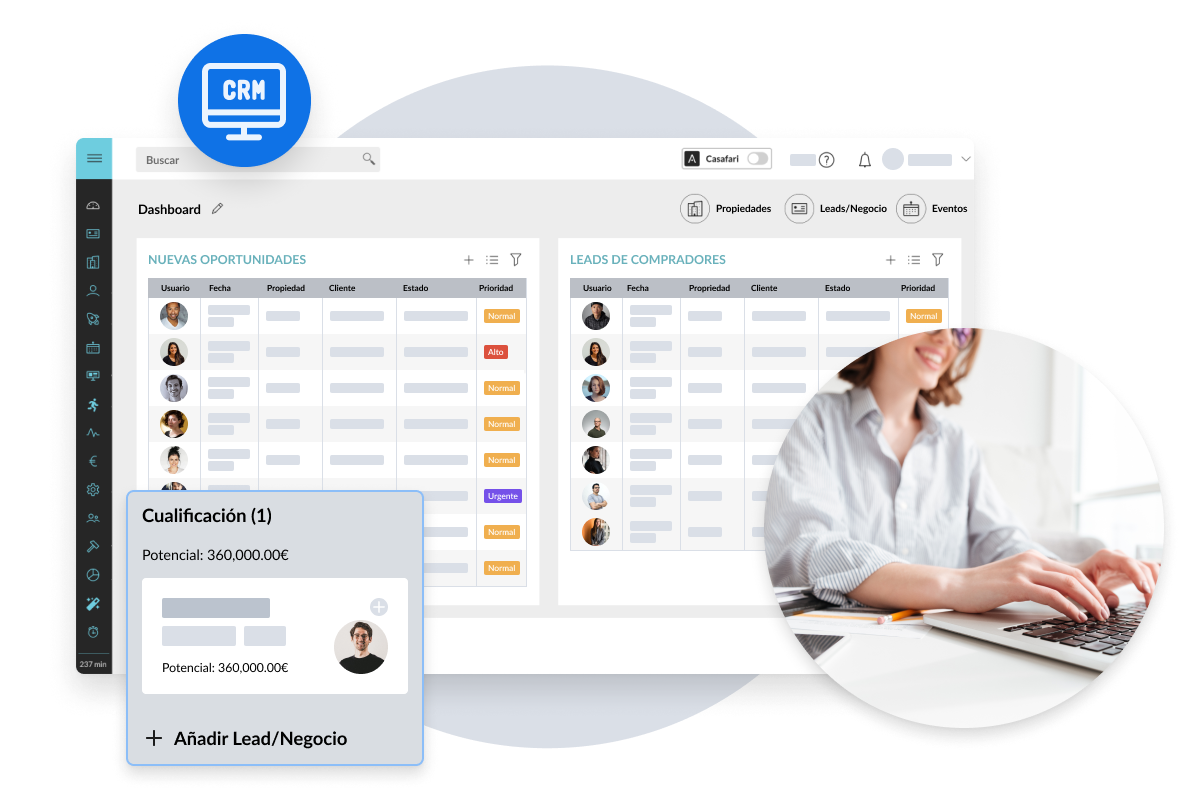 Herramientas y automatizaciones de CRM enfocadas en bienes raíces
Específicamente diseñado para profesionales inmobiliarios. CASAFARI CRM viene con herramientas de automatización que te ayudan a administrar clientes potenciales, clientes y propiedades de manera más eficiente. Con etiquetado automático, recordatorios por etapa y visitas virtuales inmersivas, nunca más te perderás una oferta. Nuestro embudo Kanban garantiza una gestión continua del flujo de transacciones.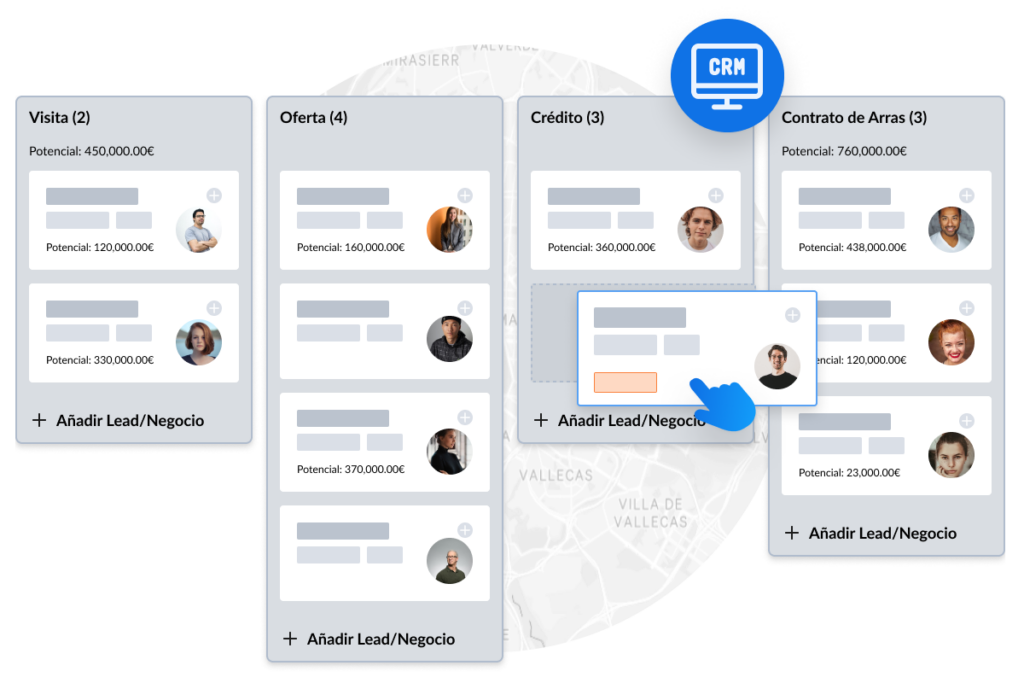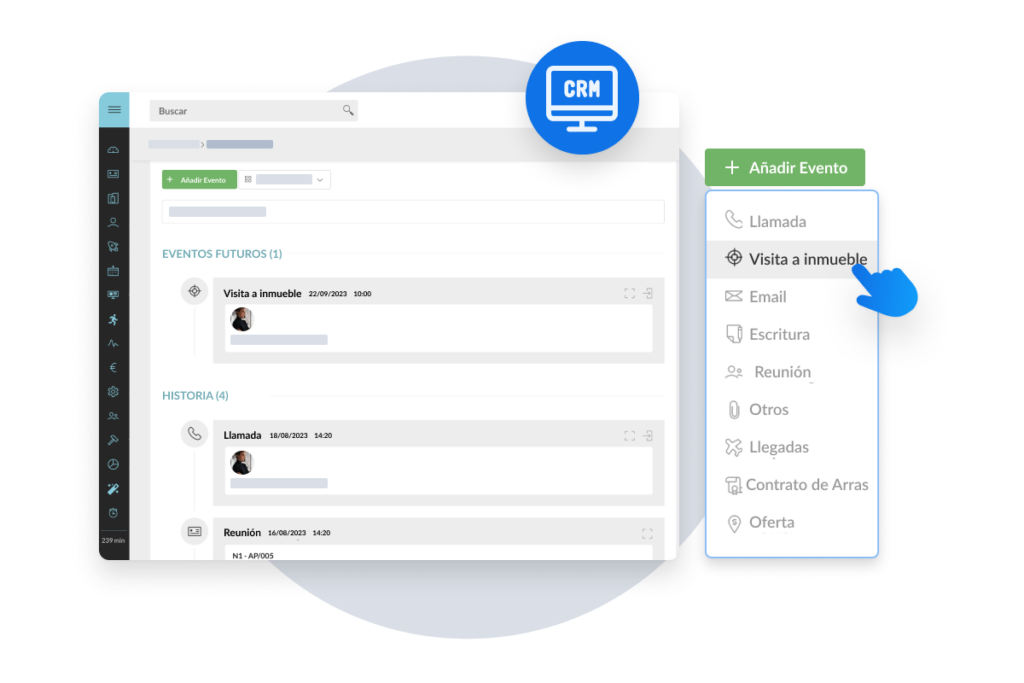 Historial de todos los contactos e interacciones
Realiza un seguimiento de todos tus contactos e interacciones con la función de historial. No vuelvas a perder el hilo de una conversación o de un cliente. Con paneles dinámicos, puedes analizar rápidamente tus datos e identificar áreas de mejora.
Creador de páginas web fácil
Un creador de pagina web sencillo que te permite crear un sitio inmobiliario de aspecto profesional para tu negocio, en solo 5 minutos. Puedes elegir entre nuestra selección de más de 10 plantillas y personalizarlas para que se ajusten a tu marca. Esta función es especialmente útil para los agentes inmobiliarios que no tienen experiencia en desarrollo web.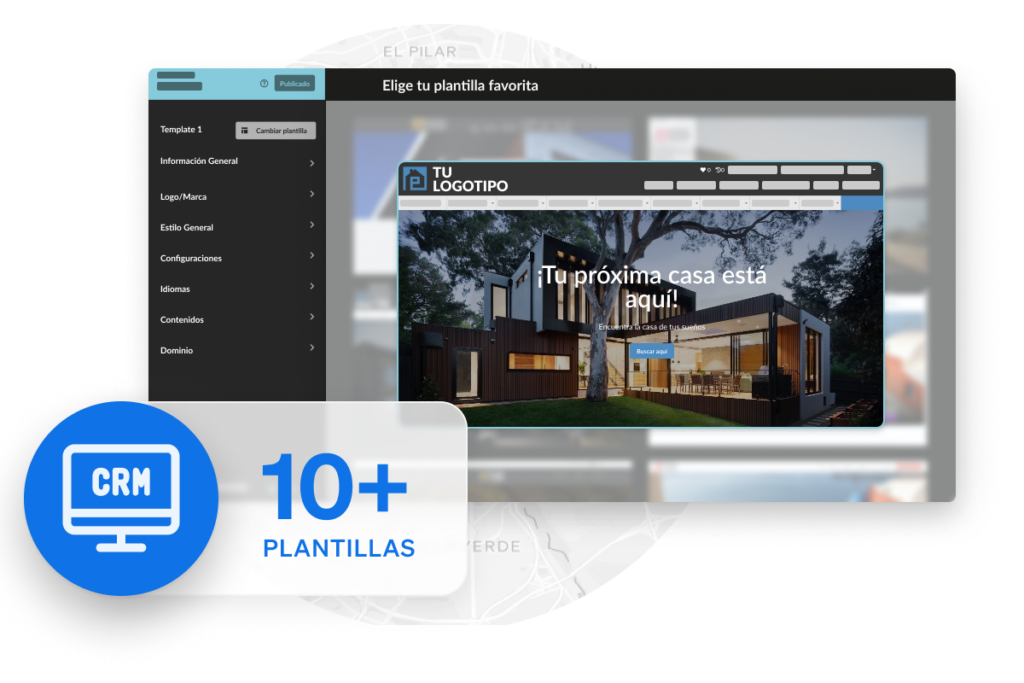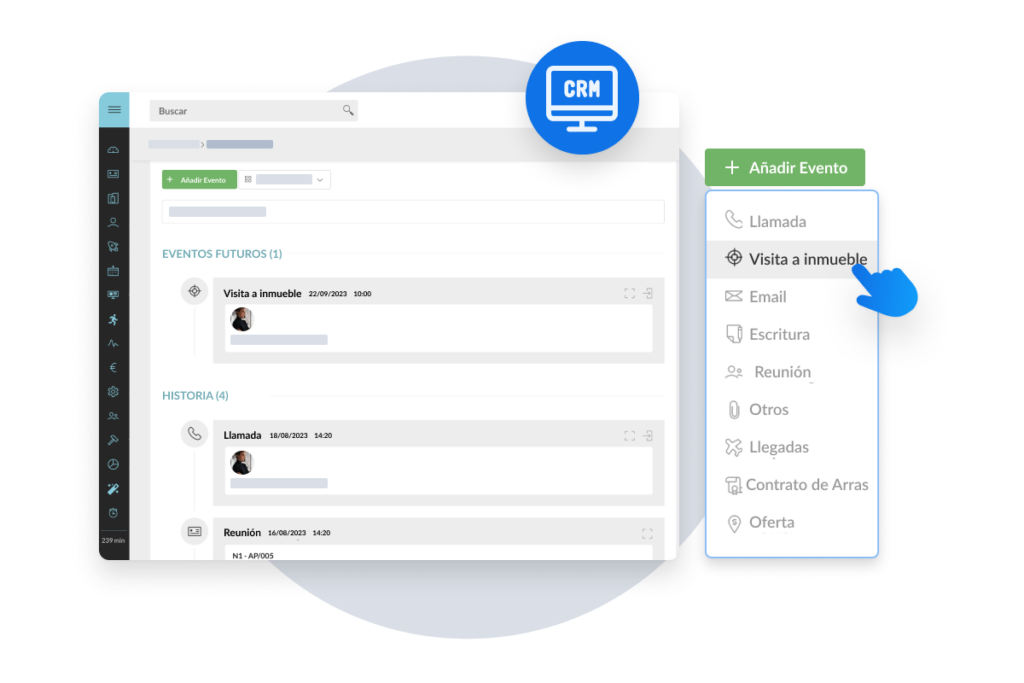 Automatizaciones con Smartlink, Smartmail, Smartreply y Ownerlink
Ahorra tiempo y esfuerzos en tareas repetitivas. Nuestras funciones de automatización te permiten automatizar tus comunicaciones con clientes, prospectos y propietarios, liberando tu tiempo para concentrarte en cerrar negocios. Comunícate fácilmente con tus clientes y establezce relaciones de confianza.
Interfaz y aplicación fáciles de usar
Experimenta la facilidad sin igual de la interfaz y la aplicación CASAFARI CRM. Administra sin esfuerzo tu negocio sobre la marcha con una plataforma CRM inmobiliario fácil de usar. Accede al análisis comparativo de mercado sobre la marcha y registra firmas digitales con un simple toque. Manténte a la vanguardia y desbloquea el poder de la gestión inmobiliaria, sin problemas y al alcance de tu mano.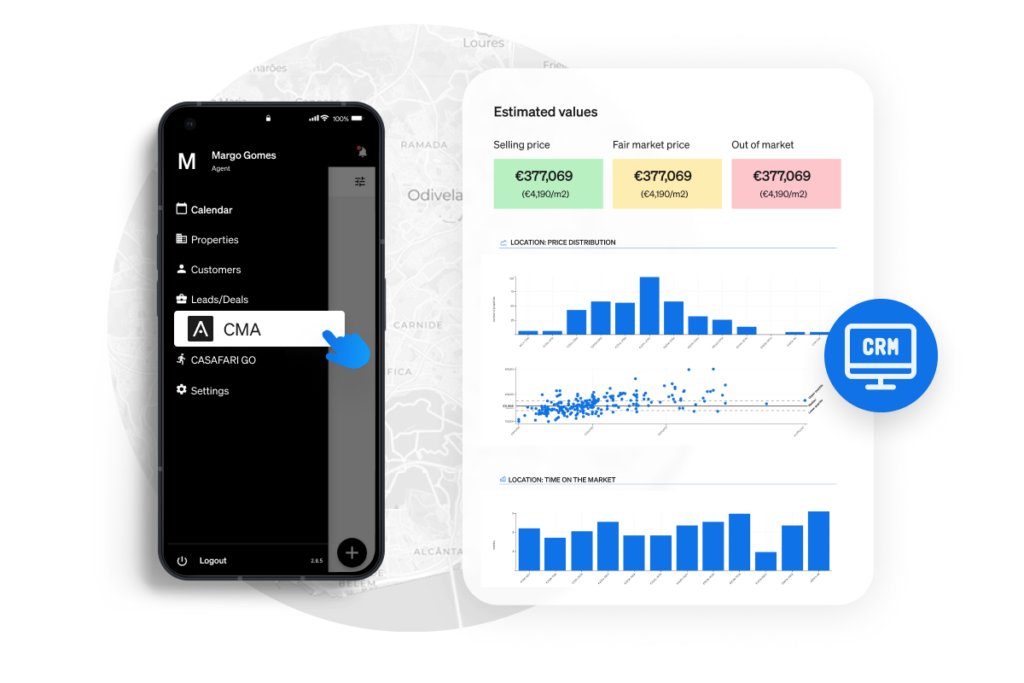 Eleva tu gestión inmobiliaria al siguiente nivel.
Solicita una demostración hoy y ve cómo nuestro poderoso CRM inmobiliario puede transformar el flujo de trabajo de tu negocio y aumentar tus oportunidades de ventas.
I have been consulting CASAFARI every day for 2 years and I have several active alerts. It is a tool that helps me a lot, to the extent that I have already closed several deals thanks to the information available.
CASAFARI is a key partner for our agents to give accurate and updated information about the market to their clients, boosting business and contributing to a more professional approach to negotiation.
The usual working methods have received an additional boost by CASAFARI, changing the way we approach our business in a very positive way. We are proud to have been involved in the initial launch and development of this tool.
Using CASAFARI compared to what I was working with is like the difference between a VW and a Ferrari.
CASAFARI allows Coldwell Banker to become more competitive, providing its clients and team with a higher quality service, transparency, and efficiency in obtaining real estate data.
CASAFARI is an essential tool for everyone in the real estate industry. We introduced it into our way of working and it has produced great results and satisfied agents ever since.
CASAFARI has allowed us to have a more objective and realistic approach to the market, equipping the Sotheby's team with the essential tools to improve our clients' experience.
CASAFARI is a really nice real estate software which has a direct impact and is incredibly positive in our day to day work. Congratulations!
It is impossible to operate efficiently in the global real estate market without the use of CASAFARI. With data provided in real-time, our team of consultants is able to identify the best opportunities in the sector!
For those who lead a real estate agency, CASAFARI CRM makes it possible to fully manage the portfolio of agents, understand where they are and what they are developing, to improve the management processes.
JLL highlight viewing the market evolution and all properties available in each area, the easy way in which you can work in growing your portfolio and how easy it is to find the best property for our client's needs.
CASAFARI CRM is super intuitive, our accounts have easily adapted to it and the same happened with the APP. it's simple and easy to navigate.
In 2021, we could manage a total of 4.843 leads, which means 403 contacts a month. Without CASAFARI CRM and its features, we couldn't have successfully done this.
CASAFARI helped us considerably in optimizing our work.
I gather more leads, schedule more meetings, convert more clients and, consequently, sell more. All thanks to CASAFARI!
CASAFARI simplifies a lot the online monitoring of properties, focusing in a single tool all the information that one usually needs to manage through various Excel sheets and notes manually.
CASAFARI helps us a lot when it comes to making property valuations and, therefore, in selling properties faster. It is a powerful tool to propose an asking price to the client, since it's based on actual real estate data.
I'm always connected to CASAFARI because the platform reports every day the changes in the real estate market.
CASAFARI aggregates the listings of all the main real estate portals, saving a considerable amount of time.
CASAFARI allows me to monitor the changes in the local market because I can see in real-time the exact number of properties for sale and their details.
I think the increase in the quality that CASAFARI CRM has provided to our working days is what must be emphasized.
Lead generation has definitely grown since using CASAFARI CRM and so has the number that convert to a sale, purely just because it enables me to keep on top of so many things at once.
CASAFARI's a very practical tool, easy to use and with data that's full of potential.
CASAFARI provides the most precise information about the property with the highest efficiency. We gained agility because we can access all properties history and generate better quality reports and market analyses.